Image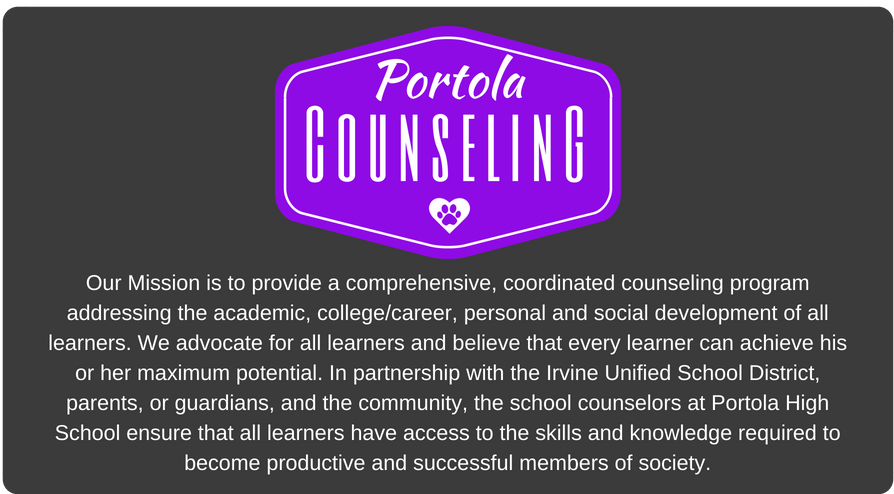 Stay Connected
Learners can receive up-to-date information and announcements from the Counseling Team, ASB, and Portola Pilot by joining Google Classroom for their grade level!
| Class of 2027 | Class of 2026 | Class of 2025 | Class of 2024 |
| --- | --- | --- | --- |
| kxvkwbb | 4cdqbq3 | gpnochs | 64uuxof |
Follow us on social media for important updates
Who Is My Counselor?
Counselors are assigned learners by alpha, so your counselor is determined by the first letter of your last name. Contact information can be found here.
Counselor Availability
Counselors are available to meet with learners on a drop-in basis before school, during breaks, Office Hours,  and after school. Learners can make an appointment with their counselor by contacting our Counseling Clerk Ms. Phoebe.
MENTAL HEALTH/WELLNESS SERVICES & RESOURCES
The District provides school-based mental health/ wellness services and resources (www.iusd.org/WeCare or www.iusd.org/department/mentalhealth-wellness) to students and families. These services include short-term individual or group counseling for students at the school site; short-term, solution-focused therapy for students and families through the Irvine Family Resource Center; and resource linkages to community-based mental health or social services for students and families. Services are provided by counselors or licensed mental health professionals.