Mandatory E-Vehicle Safety & Registration Program
To help support the safe and responsible use of e-vehicles (e-bikes, e-scooters and e-skateboards), Irvine Unified School District middle and high schools have partnered with the Irvine Police Department (IPD) and will host safety presentations as part of IUSD's new mandatory e-vehicle registration program.
Middle and high school students who travel to and from school using an electric vehicle are required to attend one of the following e-Vehicle Safety Presentations by IPD.
IMPORTANT: Any returning student that attended one of the safety meetings during the 2023 Spring semester at Portola HS, turned in a registration form, and was issued a black parking sticker DOES NOT need to attend another safety meeting. This process is only required once for a high school student's career.
Please note: Middle school parent/guardian attendance is required to learn the rules and expectations of using e-vehicles safely and responsibly. As our vital partners, your support is critical to helping keep students safe.
Students will learn:
About the different e-vehicles
Rules of the road and e-bike laws
Helmet safety
Rules for e-bike passengers
How to avoid distracted operation of e-vehicles
Safety concerns
IUSD's mandatory registration program and school procedures
Safety Presentation Dates
August 22, 6:00pm at Portola High School – Performing Arts Center
August 29, 6:00pm at Northwood High School – Performing Arts Center
September 5, 6:00pm at Irvine High School – Performing Arts Center
September 12, 6:00pm at Woodbridge High School – Performing Arts Center
September 14, 6:00pm at University High School – Multi-Purpose Room
Proof of Attendance and Parking Permit
Before the presentation student attendees and their parent/guardian will fill out a verification of attendance form, which will be sent to their middle or high school of attendance. Students and their parent/guardian must also complete and submit a Student e-Vehicle Registration Form provided by their school to obtain a parking permit sticker. Students are required to have a parking permit to park their e-vehicle on campus. The deadline is 9/22/23.
Required E-Vehicle Online Registration
This online registration is required to be complete by all students who have done the following:
Attended an E-vehicle Safety Meeting (Spring '23 or Fall '23)
Submitted an E-vehicle Registration Form
Obtained an E-vehicle sticker (black: Spring 2023 / purple: 23-24 School Year)
Contact
If you have any questions, please contact the Campus Control Assistant Office: (949) 936-8217.
Image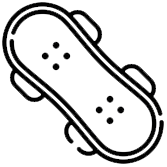 PHS E-Bike, E-Scooter & E-Skateboard Policy:
PHS students are allowed to park and lock their PHS REGISTERED e-bike, e-scooter and/or e-skateboard in one of the approved bike rack areas on campus.
All e-bikes, e-scooters and e-skateboards must have a registration sticker and be parked in an authorized location on campus.
To obtain a registration sticker, a student must have a completed registration form that is signed by a parent or guardian and attend one of the safety meetings.
Here is a link to the Registration Form.
This form must be completed before obtaining a registration sticker.
Students who do not adhere to this policy will be subject to Portola High School's progressive discipline policy. Possible consequences include but are not limited to: warning, detention, Saturday School, and/or suspension.
Thank you for working with Portola High School and the Irvine Police Department in order to help everyone travel safely to and from school.