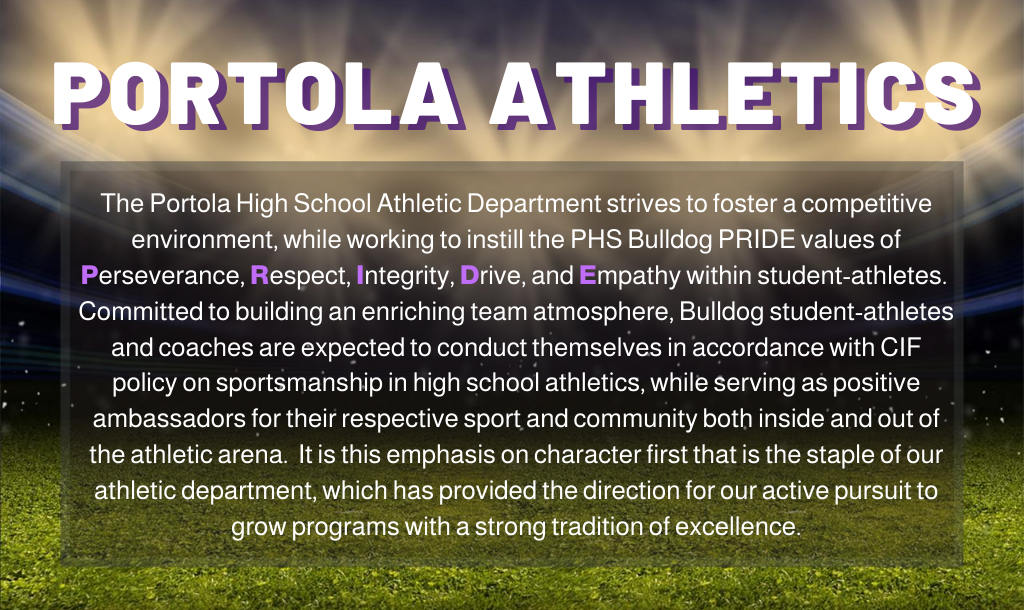 Follow us on social media for important updates!
| | |
| --- | --- |
| | |
SUMMER CAMP INFO & TEAM SIGN-UPS 2021
Hello and thank you for your interest in Portola Bulldog Athletics. Using the links below, you will find an introductory presentation for NEW Parents & Athletes, Information about our Summer Camp Programs, as well as our Athletic Information hyperdoc which includes SIGN-UP LINKS for each sport you might be interested in:
Athletics Presentation for NEW Parents & Athletes:  bit.ly/ATHLETICS2025
Athletics Information (Team-By-Team & SIGN-UP LINKS):  bit.ly/COACHES2025
Summer Camp Brochure:  bit.ly/PortolaSummer2021
***All Summer Camp Payments will be ONLINE via the PHS Webstore on/after June 7th.  Registration/Payment is to be completed BEFORE beginning participation with a camp.  There are NO REFUNDS or prorated rates.
2021-22 Athlete Clearance Process
ATHLETIC CLEARANCE: Create account and log-in to athleticclearance.com and start a new clearance for PortolaHS (CIF-SS) and the 2021-22 school year. Please be sure to complete all requested fields

Make an appointment for a sports physical conducted by a licensed medical professional (i.e. your primary care doctor), and UPLOAD completed form to athletic clearance account (IUSD Physical Form)

CONFIRMATION: Once you have completed your athletic clearance online, please print/sign/email a copy of your physical and athletic clearance confirmation page to Marci Boden (marciboden@iusd.org). She will notify you via email once clearance is complete. 
NOTE:  You must be cleared BEFORE participation in any summer camps, tryouts, practices, or games/contests (NO EXCEPTIONS).  Clearance can only be issued by the Athletic Department!
---