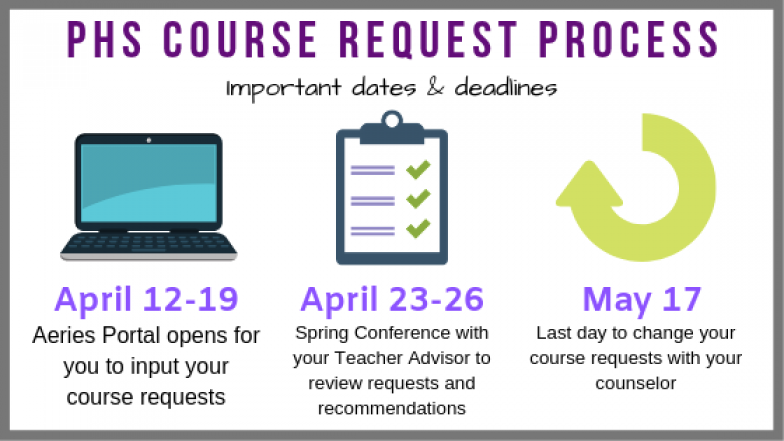 The course selection process will begin on Friday, April 12. Learners will select their courses through their Aeries Student Portal during the course request window from April 12-19. Advisement conferences will run in the afternoons from April 23-26. Your Teacher Advisor will send out invites to parents shortly. Student goal sheets, course request, and teacher recommendations will be discussed and finalized during these conferences.

The courses you are able to take next school year will be determined by your grade level. Please click on one of the following links below to review your course selection options.
Aeries Student/Parent Portal Directions

1. Getting Started - Accessing Course Requests in the Parent or Student Portal
Log into your Parent or Student Portal account on Aeries (https://my.iusd.org)

From the Welcome page, click on the Student Info Tab near the top of the screen
Select Course Requests Entry

2. Navigating - Course Requests Entry
Course recommendations made by your current teachers are listed by subject as the "Primary Request"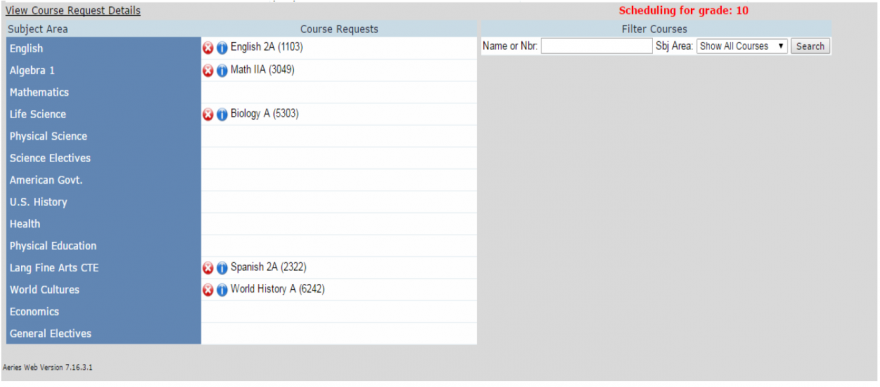 3. Selecting Courses - for adding or changing the course currently listed
Search for courses under "Filter Courses". Type in part of the title or use the Sbj Area (Subject Area) drop down menu to find the desired course then click SEARCH

Select the course from the list by clicking on the title. Select "yes" to add the course to the course requests. The course will appear under the Primary Request for that subject. There is no "Submit" button. Changes to course selections are saved immediately.
Most courses are yearlong: You only need to enter the course for first semester ("A" Course)