| Date/Time | Location | Event |
| --- | --- | --- |
| Monday, August 12 (8:00 AM-12:00 PM) | PHS Campus | Senior Registration |
| Tuesday, August 13 (8:00 AM-12:00 PM) | PHS Campus | Junior Registration |
| Wednesday, August 13 (8:00 AM-12:00 PM) | PHS Campus | Sophomore Registration |
| Thursday, August 14 (8:00 AM-12:30 PM) | PHS Campus | Freshman Summer Orientation & Link Crew |
| Monday, August 19 (2:00-4:00 PM) | PHS Campus | Make-Up Registration |
Welcome to Portola High School! Please review the grade level information to get a better understanding of how the counseling team can support you each year!
For enrollment and registration information, please CLICK HERE.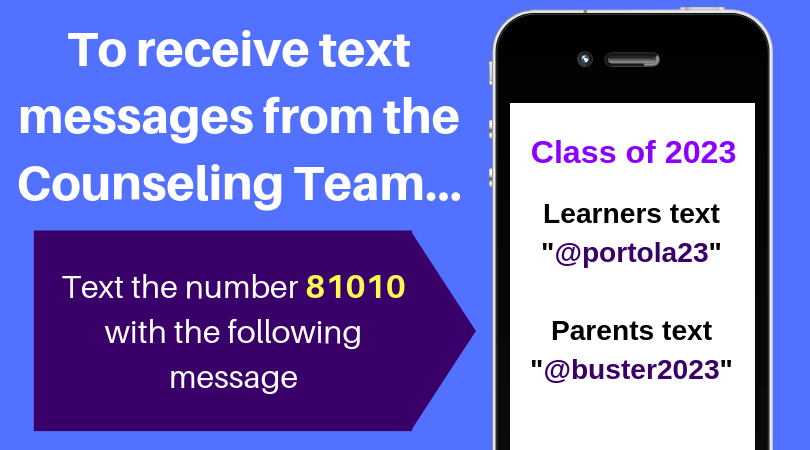 Frequently Asked Questions
When is the earliest available time I can speak to my counselor and/or make an appointment?
Since PHS Counselors are focused on serving the needs of our current learners and will be helping with scheduling the first week of school, the earliest available time to set up an appointment with your counselor would be starting the second week of the following school year. You can schedule this appointment through our Counseling Clerk Mrs. Michelle Rios.
---
What happens if I am unable to attend the Registration Day for my grade level?
If you are unable to make the Registration Day for your grade level, then you can attend our make-up registration on Monday, August 19 from 2:00-4:00 PM. If you are unable to attend make-up registration, you will need to check in the PHS Attendance Office between 7:00-7:30 AM on the first day of school on Thursday, August 22.
---
What if I am fluent in another language? Can I take an exam to place into a higher level World Language class at Portola?
If you have not previously taken a World Language class, you may register for the World Language Placement Test for Chinese, Spanish, and French. The testing dates will be Monday, May 13, 4:00-6:00 PM and Wednesday, May 15, 5:30-7:30 PM in Room 1052. The deadline to register is May 8. Here is the registration form link.
---
What are opportunities for me to get involved in a club?
Keep a lookout for our Club Kickoff Day at the beginning of the school year, where you will be able to browse and sign up for clubs you are interested in! You can view a list of available clubs by clicking this link. If you are interested in starting your own club, there will be a club interest meeting at the beginning of the year where you will be informed about the details such as creating your club constitution and finding an advisor.
---
How can I be a part of Student Government (ASB)?
For 9th graders, the only position available is being a Freshman Representative, where they are elected through elections at the beginning of the school year. If elected, the "Leadership" class will be added to your schedule. To apply for other elected ASB positions voted by the student body (i.e. House Presidents, Athletics Commissioner, President, etc.), please take note of spring interest meetings. Afterward, there are appointed positions (i.e. Treasurer, Secretary, Publicity,etc.) where you will potentially be interviewed by our Activities Directors and few elected ASB members for these positions.
---
How do I join Modern Media or Yearbook?
In order to join either Modern Media or Yearbook, you must complete either the Modern Media Application or Yearbook Application and submit to your designated teacher by May 9. Details can be found on each application.
---
Where do I start if I'm interested in playing a sport?
Please contact the coach directly for by going to "Athletics" followed by "Athletic Staff" for summer camp and tryout information. Full details can be found on the Athletics Page of our PHS website!
---
Which classes should I take the following year?
We encourage our learners to take classes that match their strengths and interests. Through our classroom guidance lessons, planning conferences, parent information meetings, and email/text alerts, the counselors provide timely information to ensure that our Portola families are aware of their options at each grade level and learners are taking the necessary classes to meet graduation/4-year college eligibility requirements.  We also recommend that you consult with your teachers when considering your ability to manage advanced level classes.
---
Which courses can I take for Extended Day (7th or 8th course)?
Athletics or "service" courses are offered as a 7th or 8th course. Athletics counts as 2 courses (7th and 8th period), and a "service" course either provides a service to our school (i.e. Yearbook, Modern Media, Video Production, etc.) or is larger and performance-based (Performing arts). Courses designated with a (7/8) will count as a 7th or 8th course in the PHS Course Offerings section.
---
Is it necessary to have an Extended Day (7th or 8th course)?
No. Taking and passing 6 classes per year will allow you to receive credits above and beyond what is needed to meet graduation requirements and 4-year college eligibility. Consider taking 7 or 8 classes only if the classes align with your genuine interests.
---
Is community service required to graduate?
No. Although Portola High School does not require community service for graduation, we believe community service to be a valuable and rich experience for the high school student.  Students who complete 25 community service hours per year will receive recognition of those hours on their transcript.  Community service hours completed during the summer can be included in the school year following that summer. More information can be found here.