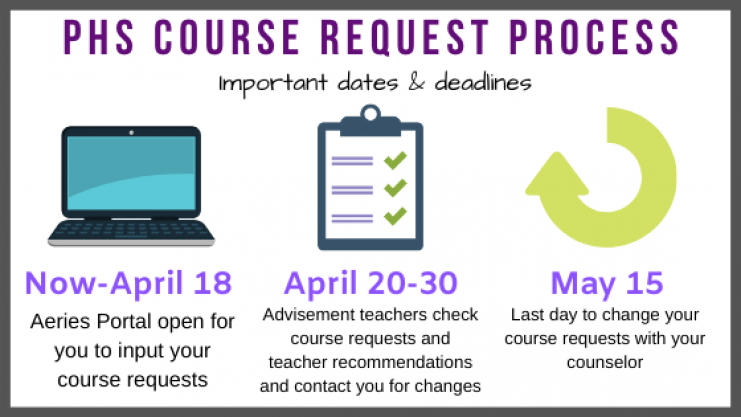 Dearest Bulldogs!
Even though we can't meet during our usual advisement time or spring conferences, we know we can deliver the same information in order for you to complete the course selection process. Are you ready? We are!
Please check out the Resource Links below:
Complete your Personal Defining, Shaping, & Goals sheet.  The link will force you to make a copy. Please add your full name to the title of the document and share it with your advisement teacher.
Review the Student/Parent Portal Directions in order to add your course requests to Aeries.
If you are interested in the Blended Learning Options, please fill out the BLO Form.
Use the PHS Course Offerings & Descriptions as a guide and resource when selecting courses.
Please use the Course Selection Sheets as a guide when selecting courses. You have until April 18 at 3:00 pm to add your course requests. The following week, all advisement teachers will check your course requests and teacher recommendations before contacting you or altering your requests. After April 30th, you will need to contact your counselor for any course request changes and the deadline for student requests is May 15.
We miss you and are looking forward to when we are all at PHS again! We wish you and your family well.
Enthusiastically,
Your Bulldog Staff & Crew
Aeries Student/Parent Portal Directions

1. Getting Started - Accessing Course Requests in the Parent or Student Portal
Log into your Parent or Student Portal account on Aeries (https://my.iusd.org)

From the Welcome page, click on the Student Info Tab near the top of the screen
Select Course Requests Entry

2. Navigating - Course Requests Entry
Course recommendations made by your current teachers are listed by subject as the "Primary Request"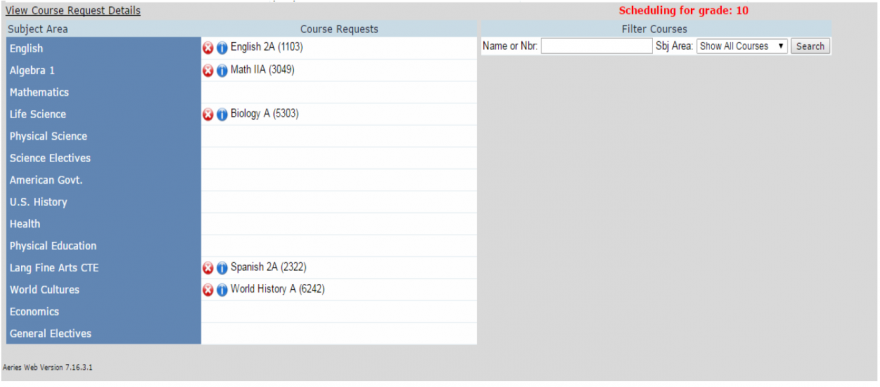 3. Selecting Courses - for adding or changing the course currently listed
Search for courses under "Filter Courses". Type in part of the title or use the Sbj Area (Subject Area) drop down menu to find the desired course then click SEARCH

Select the course from the list by clicking on the title. Select "yes" to add the course to the course requests. The course will appear under the Primary Request for that subject. There is no "Submit" button. Changes to course selections are saved immediately.
Most courses are yearlong: You only need to enter the course for first semester ("A" Course)